SMALL BUSINESS WORKPLACE ASSESSMENT
Understand how to transform your business into a modern workplace?
How modern is your workplace?
Find out now.
Take our quick assessment to see how you score across key areas of a modern workplace.
Have you embraced the capabilities and benefits of a modern workplace? If you are looking to drive your business forward it is time to take note of the technology available to you and your staff.
It is time to empower your staff to work collaboratively by implementing changes to the way you work by adopting, or leveraging existing, modern workplace tools.
We've created a quick and easy assessment to help you understand how your business fares when it comes to a modern workplace. Simply answer 14 quick questions to receive a custom report including a score and market benchmark that will enable you to identify opportunities to transform your digital ecosystem.
What you'll get from the assessment:
Gain valuable insight into your:
Information & Data Management
Save time and resources by identifying which areas of your business would benefit from a modern workplace transformation.
Accessibility and mobility are minimum expectations for your team and customers in the digital age. Keep up by regularly checking in with the latest in infrastructure and networks.
Streamlined processes make your business more efficient, profitable and resilient. Without them, you're bogged down in administrative tasks.



Efficiency & Improving Technology
Your workplace can easily benefit from simple, efficiency-improving technology tools, security and software that will get your team working harder and give your customers a better experience.

Basic Support
Our basic support plan give you access to our friendly helpdesk as and when you need it . We can provide both remote and onsite report. Support is charges at an hourly rate with no monthly commitment.
Complete or advanced
This plan is for clients who like to have a fixed budget for their IT support. This support plan is billed at a fixed monthly rate which also access to our helpdesk and any maintenance tasks that are included in Basic Plus plan. Including proactive IT support and strategic IT planning can help your business grow whilst ensuring your employees can focus on their day to day operations.
Basic Plus
This plan is for clients that have their own on-premise server(s). We include standard maintenance tasks and automated patch management for a monthly fee. Clients on this plan also get access to our helpdesk and get a 10% discount on the standard hourly rate.

IT Smart Solutions is a leading provider of IT Services to businesses in the Sydney CBD and metro area. We have a team of experienced IT experts and a fleet of cars on hand enabling us to respond quickly to clients in the area.
As a Managed IT Service provider it is our aim to give proactive IT support for an affordable monthly payment. We provide day-to-day IT support as well as overarching strategy and planning to assist with digital infrastructure and business transformation.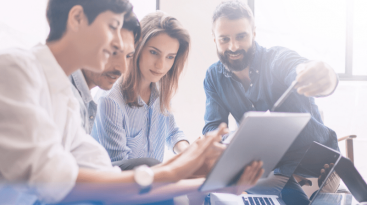 "Whilst the theory behind a modern workplace is quite simple and easy to understand, the process of transforming into one can be a little more complicated. Introducing new technologies and processes can be met with resistance. To combat this, businesses should ensure they invest in the necessary training and change management."
Here's what we think a good modern workplace is:
Digital transformation is inevitable, don't let your business get left behind.
Identify the key focus elements to help you move your business forward and improve day-to-day operations. Complete the assessment now and receive your custom report within one business day.